The process of a separation is a long one. It starts with the initial breakdown of the relationship and the doubts that you may no longer be 'till death do us part'. Right through to possibly several years after the breakup while you are still processing the change. Finding suitable resources to help you through this journey is hugely important. Luckily, there is plenty of support out there, and one of the best is books.
Books have bountiful benefits when it comes to offering useful and accurate advice. Unlike the Internet with its mountains of fleeting, non-expert opinions, books are written, checked and double-checked to ensure the content is authentic. You can rely on the well-worn pages of a trusty book. You can make notes and grab it off the shelf if you want to re-read it or refer to certain sections. Books bring knowledge, and knowledge brings power, and power allows you to create life you desire.
Yet, with so much available, it's hard to know where to start. Our advice when choosing a book is to first borrow it from the library. Books can be pricey and unless a title has been highly recommended to you by several people, it might be a waste of money. If a library book resonates with you, then consider purchasing it.
To help you find the absolute perfect book for your separation, we have selected and reviewed some of the most popular on the separation circuit.
SUPPORT BOOKS FOR YOUR SEPARATION
Surviving Your Split: A Guide to Separation, Divorce and Family Law in Australia
By Lucy Mannering and Rebekah Mannering
This brilliant book is written by two sisters, both lawyers, who split from their husband's within months of each other. They had their sisterly support between them, but could find very few other resources. So, they did what strong women do … and created one! Surviving Your Split is the result. It is packed with information from making it through the first few days, telling the kids, and dealing with the court system, right through to building a new life at the end of it all … a life which may be even better than you imagined.
We recommend this book for: Woman who are looking for support for their full separation journey from people who have 'been there' and offer experience-based and professional advice.
Divorce in Australia: A man's guide to protecting your assets and yourself
By Sean Sullivan
Written exclusively for Australian men going through a separation, this book focuses on the two issues it considers most important: 1) How to get the very best financial outcome, and 2) How to arrange contact time with your children. It is easy to read and boasts 'you won't find any legal speak in this book'. The down to earth advice includes keeping legal costs under control, protecting your assets, coping with unamicable discussions with your ex, and how to get as much time as possible with your children.
We recommend this book for: Men who want to understand the full picture throughout their separation proceedings and are looking for the best financial solutions and a good relationship with their children post-divorce.
Divorce Poison: How to Protect Your Family from Badmouthing and Brainwashing
By Richard A Warshak
Ignore the negative name on this book, it is in fact, quite revolutionary and hugely helpful for the parents who contend with an ex-spouse bad-mouthing them to their children. Warshak advises that instead of staying silent (while you scream inside your head), you should follow his blueprint. It covers how to deal with different criticism, the reasons that parents manipulate their children and the damage they can have on the children. With input from legal and mental-health professionals, Divorce Poison will open your eyes and guide you through some difficult conversations with your children and your ex.
We recommend this book for: People with an ex-spouse who repeatedly bad-mouths and brainwashes their children and they feel in fear of losing respect and affection from their children.
Divorce: Survive. Recover. Thrive.
By Delicia Mclean
This wonderfully honest book makes no bones about the fact that divorce is painful … and the pain for is inescapable for a period time. For this reason, Mclean helps you to address the pain and teaches you to accept, heal and to make the very most of your new life. She believes we get stuck in a repetitive loop of negative behavior and thoughts, which we must intercept to move forward. With the benefit of 15-years clinical experience from the writer, this book will provide you with a straight-forward road map to your healing journey.
We recommend this book for: People who are struggling to move forward after their divorce or are still in a great deal of pain. As well as those who want to minimize the discomfort and speed up the recovery period.
Divorce: Breaking up and Ending an Unhealthy Marriage
By K. Connors
This book takes us back a little and deals not only with the many stages of separation but also with whether or not you should make the break. Basically, it looks at the root causes of breakups and helps you decide whether your relationship is salvageable, or whether it's time to pack-up and move on. Written with a refreshing bluntness, in this book you will learn about different types of break-ups, how to understand the opposite sex, how to deal with a nasty divorce and what you need to do to bounce back again.
We recommend this book for: People who are considering a breakup and those who are considering reconciliation. It is particularly good for people who like to-the-point, un-sugarcoated advice about the separation process.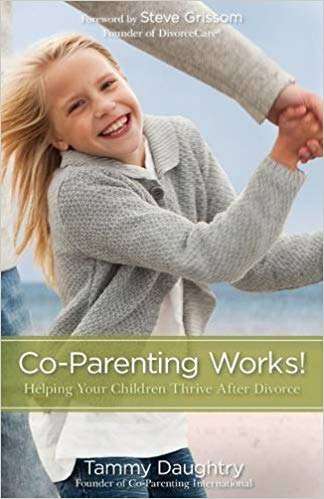 Co-Parenting Works. Helping Your Children Thrive after Divorce
By Tammy G Daughtry
Yes! We love this book. Forget about the stats around children of divorce and instead learn how to be the very best co-parent you can be. Daughtry is the perfect combination of co-parent and counsellor to guide you on this path which is directly linked to your children's happiness. Learn how to team-up with your co-parenting partner to make it work and help your child feel comfortable living between two homes. By becoming a great co-parent with the advice from this book your children will gain self-esteem, lessen their anxiety and basically be happy and healthy. What more could you ask for?
We recommend this book for: Co-parents who want to be the very best parents they can be for the sake of their children. Especially helpful for ex-couples who may be struggling with shared parenting and need advice from an outside source.
The Good Divorce
By: Constance Ahrons
'It's never too late to have a good divorce' says Ahrons. This is an enlightening book that all divorced couples should read. Based on two decades of groundbreaking research it proves that a surprisingly large number of couples may end their relationship but they successfully manage to preserve their families, and ultimately bring-up happy children. Creating a collective sigh of relief from separating couples throughout the world, The Good Divorce will teach you how to split your family between two homes whilst retaining family values and the needs of your children.
We recommend this book to: Separating or separated couples who hold family values in high regard and want to retain them throughout and after their breakup. Great for those who want the best outcome for their children.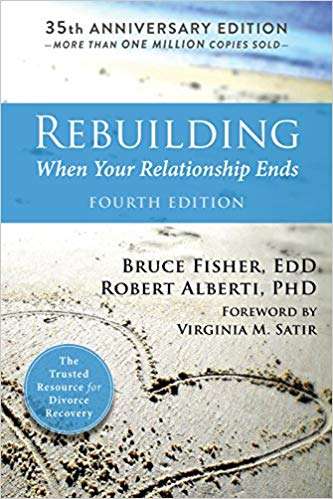 Rebuilding: When Your Relationship Ends : 4th
By: Bruce Fisher and Robert Alberti
This book has been in print for 35-years and is now in it's 4th edition. What does that tell you? That it works! Rebuilding is a 'proven, effective 19-step process for putting one's life back together after divorce'. It is now the most popular approach to divorce recovery helping people all over the world. Each edition is up updated based on the results of feedback from hundreds of thousands of men and women, keeping it modern, forward thinking and relevant to our current society.
We recommend this book for: People who are struggling to rebuild their life after divorce and need a strategy to move forward. With such a brilliant tried and tested formula this book would appeal to those who have previously tried and failed to overcome their breakup and rebuild their life.