Divorce and separation are confusing and upsetting for children. It can be hard to reassure them that everything will be ok and, most importantly, that they have done nothing wrong.
One of the best ways to get an important message across to young kids is with a good old-fashioned book.
There are some really wonderful children's book to buy or borrow that will ease their little minds in a fun and relaxing way. Written by authors with first-hand experience and/or expertise with family breakups, they tackle issues such as parental love, two homes, and new partners. They also make children feel less alone knowing that other kids have been through the same experiences and have learned to live happily in their separated families.
To help you find the best resources on the market today here is our pick of books to help young children cope with divorce.
For ages: 6-8 years
Two Homes is about a boy named Alex whose parents are divorced. Alex spends time with each parent separately and has two of everything, including rooms and sets of friends. The boy is well adjusted and loved by both parents as he loves them. For children of divorce who are still adjusting to their new normal, the way Alex navigates his reality is extremely reassuring.
Two Homes is a simple, short story that kids will easily follow. The illustrations are comforting and warm. Single parents will love reading this book aloud to kids for story time or bedtime, as they explain some of the silver linings of divorce i.e. separate homes don't change how much parents love their children.
The Invisible String by Patrice Karst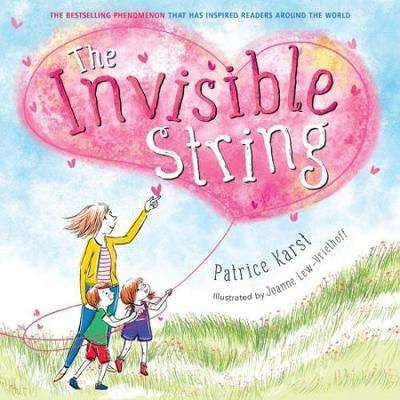 For ages: 4-8 years
This bestselling book was published nearly 20 years ago, but it continues to capture the hearts of kids and parents the world over. The Invisible String is a heartwarming story of the unseen tie (love) that binds families together, even though we can't always be together. It's a fantastic book for parents to read with kids who have separation anxiety or those struggling with loss of a loved one.
At 36 pages, the book is a breezy read (even for kids with short attention spans). The illustrations are minimalist but engaging, reinforcing the message that everyone has an invisible string that can reach anywhere, even to those who are not physically present.
Living with Mum and Living with Dad: My Two Homes by Melanie Walsh
For ages: 1-5 years
Living with Mum and Living with Dad is a coping book for younger kids, telling the story of a little girl living with separated parents. Sometimes she lives with mum and her cat, and sometimes she lives with dad. Similar to Two Homes, this book is a treasure for separated parents who want their kids to know that their love for them will never change, even though mum and dad don't live together anymore.
The book is filled with lovely illustrations that shows the routine of separated life: having two sets of toys, bedrooms and schedules. The colourful art drives the simple words home, showing how the author is closely attuned to the daily life of children with separated parents.
Two Birthday Cakes by Danielle Jaku-Greenfield
For ages: 6-8 years
Children of separated parents usually get two of everything, including holidays and birthdays. Two Birthday Cakes is the first picture book in a self-help series that shows the positives of separation. Developed by the founders of the Sydney Mediation Partnership, the book aims to reassure kids and adults that there is life after separation, like having two birthday cakes!
The story tells of a girl and her brother that came to live in two separate homes and have two of everything. Separation is complicated, but the author manages to simplify the issue for young readers while giving satisfying answers to families who are no longer a single unit.
Was It the Chocolate Pudding? A Story for Little Kids About Divorce by Sandra Levins and Bryan Langdo
For ages: 2-6 years
A humorous picture book for younger kids trying to cope with divorce/separation, Was It the Chocolate Pudding? explores the aftermath and the guilt that sometimes comes along with it. While telling the story of his divorced parents, the young narrator learns about complex issues like joint custody and single-family homes for the first time. Finally, he comes to the important realisation that divorce is not his fault; it is a grown-up problem.
The explanations are age-appropriate and easy to understand, and there's a note to parents by the psychologist and author. Pick up this book today if you're looking for an empathetic, no-nonsense way to explain divorce and its effects to preschoolers.
Love Makes a Family Board book by Sophie Beer
For ages: 2-3 years
We love books celebrating families of all shapes and sizes. The inclusive and delightful Love Makes a Family by Sophie Beer is both a picture book and a board book. The brilliant illustrations show a family of two dads, and two mums doing daily activities. Whether it's baking a cake, reading a book, building a fort, or getting tucked into bed, the book tells kids that love is what's important, no matter what kind of family you have.
Young kids will love the bright colours even if they don't get the message yet, and older kids will appreciate the humour and message of diversity and inclusion. This is a great book for reading aloud and a fun activity for story time.
A First Look at a Family Breakup: My Family's Changing by Pat Thomas
For ages: 6-8 years
A number one bestseller in the divorce and children category, this nonfiction picture book written by psychotherapist and journalist Pat Thomas is an essential resource for educators, counsellors and parents of children going through divorce or separation. It tells the story of a couple who used to love each other. While the parents have decided to live separately, the child knows that they will always love him.
Beautiful watercolour illustrations accompany the text that is easy to understand and helps answer questions about the difficult experience of divorce/separation in a non-threatening way. The book makes a thorny topic accessible to kids and helps calm fears and worries that they may have. It's also an excellent book for educators who work with children of divorced parents.